With a $5,000 loan from mom in 2012, one truck, and a lot of determination, Stollwerck Plumbing & Sewer was created. Our vision of providing high service level plumbing and sewer services in Snohomish County, by sourcing materials from other local suppliers, and treating customers and employees like family, grew became reality. Instead of focusing on high volumes of calls, with commission structured employment, Stollwerck Plumbing prides itself on creating a "no pressure" work environment, where our plumbers are skilled tradesmen, not salesmen. Understanding our clients' needs from Meadowdale to Olympic View Drive, in the Bowl, or through Esperance, and into Woodway, we provide practical solutions to your plumbing needs. Feel confident that when you engage Stollwerck Plumbing & Sewer you are hiring a licensed, bonded, and insured team, that has grown its business on trust, with a quality experience with both residential and commercial properties.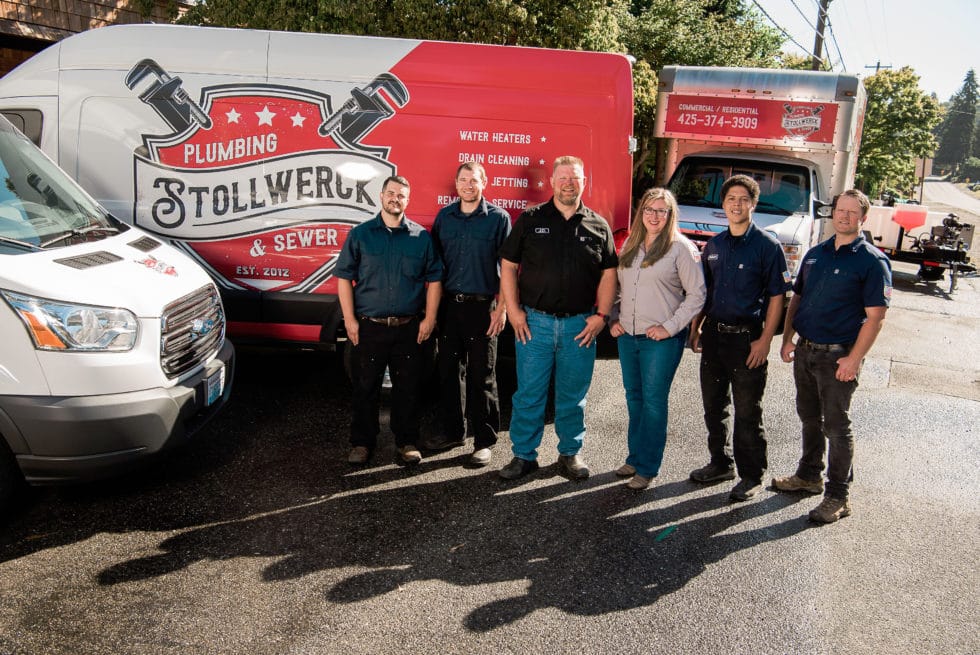 Plumbing Services in Edmonds | Why Choose Stollwerck
Selecting a reliable plumbing company can feel challenging, especially when it is at a time when you need immediate help with a leak, clog, or broken water heater. Let Stollwerck Plumbing take the indecision out of your day. The cornerstone of any good relationship is communication, and we ensure our clients are part of our process, from the first phone call to our worry-free estimate, to our service, to our personal thank you notes. We recognize the value of your time, by arriving within our scheduled times prepared with the proper tools on the occasion you need a plumber's services. Stollwerck Plumbing answers your calls with equal attention provided to your minor or major plumbing matters. We tackle each service call with an individualized inspection and evaluation of your issues, to provide you with a comprehensive worry-free estimate, before commencing any work. Stollwerck Plumbing's analysis offers you detailed information and proposed solutions to your plumbing concerns with quality materials and craftsmanship.
Plumbing Services Offered by Stollwerck in Edmonds
Faucet leaking? Hose bib frozen? Water heater out of order? Drain or sewer clogged? Natural gas lines malfunctioning? Would you like an earthquake safety valve installed? Do you need a sewer scope of your drains before you purchase your new home or rent your new commercial space? Damaged water main or defective sewer line? Stollwerck Plumbing empathizes with your dilemma and responds with mindful actions to keep your home or business in working order. We know you would rather be noshing on some tasty eats on Main or 5th, or taking the dog for a stroll along the beach, rather than dealing with a backed-up toilet. Our fully stocked trucks afford our professional teams use of a variety of tools to find the source of any plumbing problem, provide you an on-site estimate to solve the issues, and perform the essential repairs, most often in the same visit. Once service is completed, we can also review likely causes for your emergency, and advise you on preventative measures. We care about your plumbing systems and your property!
Residential Plumbers Edmonds
Incorporated in 1890, 9 years before Washington became a state, Edmonds has a long history of being an industrious and individual town – timber industries, active wharves, ferry port, and railroad depot, all were fairly isolated in the Edmonds Bowl. With the development of Highway 99, SR 104, and I-5 in the mid-sixties, Edmonds became connected. Stollwerck Plumbing & Sewer understands the various challenges posed with period construction methods and how older, or remodeled homes may have perfectly serviceable systems, or when the plumbing may need to be updated to meet current codes. Our plumbers look forward to working with you in as narrow as scope as needed for your plumbing needs or can broaden our focus to assist with input regarding modernizing your plumbing and natural gas line work required to make your home suit your current lifestyle.
Commercial Plumbers
Edmonds
Are you renovating your new tenant space on Hwy. 99 and need plumbing fixtures relocated or installed? Does your shop in Perrinville have slow drains? Does your restaurant on Main have a grease trap that needs cleaning? Have you struggled to find a professional plumbing company to service your rental properties, with respect for tenant privacy, provide timely repairs, and recognize the value of quality repair work to preserve the value of your investment property? Stollwerck Plumbing is licensed and insured over industry standards, to provide you with confidence in our warrantied work for years to come.
Edmonds
Plumbers Near Me
Call us today, for an in-person, worry-free estimate and quote for your plumbing matters today! Stollwerck Plumbing (425) 374-3909.
We are Local:
Edmonds
Looking for Residential/Journeyman/Service Specialists for Plumbing!
Incentive Plan – DOE! Hiring Bonus: $15K D.O.E. for Journeyman, up to $5K for Apprentice D.O.E. NO VAX status required - its your own business, not ours.
Local, family company seeking reliable and motivated person who wish to work a full-time, steady schedule in the Everett, Mukilteo, Lynnwood area.
No trips to Seattle, no weekends, no "on-call" shifts!
Competitive non-commission based wages.
Our company focuses on friendly service and repair calls, remodeling/renovations, and professional drain cleaning - no new construction.
Our motto is simple – "Say what you'll do, and do what you say." Our philosophy is to provide every client with the same service level we would for our own parents -fix it correctly, at a fair price, with the correct materials for the job.
All Residential/Journeyman/Service Specialist Plumbers must have current WA State license. We require a valid driver's license, and reasonably clear driving record. We expect punctual attendance, clean and professional appearance, with motivation to work efficiently with attention to detail. We require good communication skills with clients and co-workers, desire for learning new processes in the industry, and ability to drive responsibly in traffic. Candidates must meet ability to lift 15-80 lbs. as required for moving equipment/ materials.
Experience: Residential/Journeyman/Service Specialist - 1-2 years. Trainees: DOE
Typical work hours: 7:30am-4:30pm, Monday through Friday. 30+ Hours per work week guaranteed.
Full Time Employee Benefits: Great Hourly Pay, Paid Time Off, Paid Health insurance (with option to add dependents at employee cost)/ Basic Life/ AD and D, SIMPLE IRA retirement plan, Uniform allowance (hoodies, hats, shirts, work jeans and boots), Company iPad, Company cell phone, newer work truck, and BONUSES!