Holy Cow! That is the biggest water bill I've ever seen! And where did that new mud bog come from in my front yard? Why is there a new large puddle in my basement? Any indications you have water running somewhere, but no appliances or fixtures showing signs of water being used means you may have a break in your main water service line.
The lifespan of a water line is determined by multiple factors, including, but not limited to: type of material used, quality of original installation, groundwork around your water line, results from any repairs/remodeling projects over the years, invasive roots or seismic changes around your water lines, etc, causing all kinds of plumbing service problems.
Your water main is what provides your home and/or buildings with the basic utility that allows you to do all the things you need to do for daily tasks – washing, bathing, drinking, and in some cases heating! When your service is disrupted, you need a plumbing company who can correctly diagnose the issues and provide a practical and long-lasting solution to your water line service problems.
Water Main Line and Pipe Repair Services | Why Choose Stollwerck
Preliminarily, after you think you have a leak in the main water line, you need to contact your water utility immediately, to alert them to the situation, as they may be able to work with you on pro-rating the fees for water usage. If you live in or have a commercial space in a multiple residence/ multiple tenant building, contact your property management company immediately also, as your main water supply may be isolated to your unit or require the whole building be shut off. Your utility company, or our plumbing staff, can assist in shutting water off to your home if you do not know how to do so, or are unable to do so. You can perform a simple test to determine if you have a leak in the main water supply line, or if it may be a running toilet that is causing your water usage to skyrocket. Gently shut off the main water supply valve to your home, and then check your water meter at the street – if it is still running, you likely have a leak in the underground water supply line to your home. Depending upon the location of the break in the water line, our professional plumbers will identify and source the water line issue, or a professional leak detection company may be called in to identify the exact location of the leak, with the latest in non-invasive techniques. All our water line service work includes locates of existing utilities, prior to commencing any work. If it is determined to be just one section of pipe needs repair, the section is exposed, repair performed, and the line is fully tested. If the examination provides results that show the entire water main is in disrepair, or it is too corroded/damaged to perform a localized repair, options for water line re-lining or replacement will be proposed.
Underground Water Line Repair
Your private water main extends underground from the water meter located in the City/County's right of way to your home to supply your house and outbuildings with safe, potable water. Whether there is a break in the line, or the line itself is deteriorated to a point where the integrity of the pipe is dangerous, you need to have the water line repaired in a code-compliant manner by licensed professionals. If your existing water main is in fair shape, methods for repairing underground water lines can range from spot trenching for a specific spot repair, to complete pipe relining using the latest in BlueLight LED technology which has your pipe re-lined, cured, and back in action in a matter of hours.
Our team arrives prepared to protect your landscaping to the best of our ability, and with proper shoring, protections to safely perform our work, in situations where deeper trenching is needed. Just as every home is unique, the solution to your specific water line repair needs to be specifically tailored to adapt to your existing structures and plumbing, face any unique landscaping issues, and ensure the necessary work is performed to code.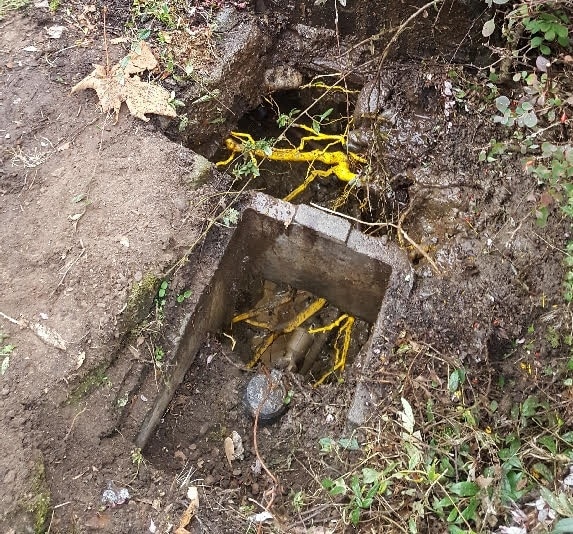 Water Mains Repairs
Your water main may enter your home through the foundation or crawl space, and end at the main valve located in an attached garage, basement area, or utility room area of your home. Repairing portions of your water main may require our plumbers to conduct repairs in your crawl space beneath your home or open up a section of your slab if the water main runs beneath and through the slab. Stollwerck Plumbing pays careful attention to ensuring all exploration and demolition work required to perform plumbing repairs is done as cleanly and as non-intrusively as possible. Sections of failed pipe are repaired, connections secured, lines tested, concrete restored (as needed) and the work area is left clean and tidy.
Water Line Installation
Adding a new irrigation system in your yard? Are you building a new outbuilding on your property? Are you remodeling your daylight basement into an entertainment room and need water and waste lines run to a new kitchen/bar/bathroom? Or do your existing worn out pipes need to be replaced? Water line installation services can be performed by various processes but should always be done by a licensed professional. Stollwerck Plumbing will recommend the best plan suited to meet your plans, timeline, permitting requirements (as needed) and budgeting concerns. One method is to use traditional trenching where the location of the new line is dug down to the appropriate depth, pipe and connections installed, and then the trench is backfilled to bring back to grade in a rake finish. Another method, which is less invasive to your landscaping, is called directional boring. This technique creates a clean path underground for new pipe to be pulled through, with minimal disturbance of your landscaping. If the water lines need to be run through the foundation, our team can expertly and cleanly perform the necessary coring work, to properly plumb the new system. Regardless of where the new water lines need to be, Stollwerck Plumbing ensures they are properly installed to code, using the correct materials.
Water Line Replacement Near Me
Our licensed plumbers and technicians evaluate your situation with an in-person, worry-free inspection and assessment, and provide you a written estimate fine-tuned to address your issues before any work is commenced. Beginning with water line inspection, and progressing to repair or replacement – Stollwerck Plumbing is conveniently located to assist with all water line matters in Snohomish County and South Whidbey Island. (425) 374-3909.
Areas We Serve: Everett